RSS Feed click Logo

Our Main web page: McCainAttacks.blogspot.com

Below(click*):
Sworn affidavit from AGENT DAVIS CONFESSING TO FBI'S AND HIS OWN COLLUSION WITH CANADIAN GOVERNMENT/ JUDICIARY/LAW ENFORCEMENT TO ADVENT OF MY

KIDNAPPING

TO UNITED STATES and

email threatening our family copied to attention John McCain
Summary Account
;
Original Profiling Attack
KIDNAPPING "click"ATTEMPTS CONTINUE !
< >
U.S. Says Kidnapping Is legal!
Threatened by FBI in association with John McCain & Republican Party 's Notoriety

; Targeted for

ABDUCTION

as meant To Silence our online Protest of a racial Airline Profiling
Attack

upon our persons

upon Northwest-an airline
that has been sued successfully

by the ACLU for its notorious racial profiling practices and having
deep rooted political connections with McCain as John McCain's official RNC election airline carrier (2nd reference here*) and as per Northwest Airlines former CEO Fred Malick as McCain's 2008 election campaign Co-chair (relationship map click here) the racially bigoted Republican Party (watch video) (as per John McCain's race hate campaign of 2008).
Email threatening our family received from FBI AGENT STEVEN C. DAVIS copied to attention JOHN MCCAIN amidst attempts upon our family's abduction!
-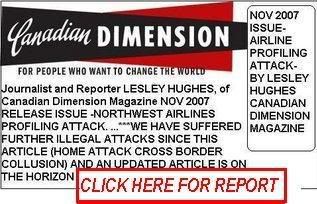 This is a sub-posting To access Main blogpost Click
here
.
Below: P.I./FBI ASSET STEVEN C. DAVIS SWEARS CONFESSION TO FBI'S /HIS OWN/U.S. MARSHALS' ATTEMPTS UPON OUR ABDUCTION/HARM IN COLLUSION WITH CANADIAN AGENCIES, GOVERNMENT/ JUDICIARY/LAW ENFORCEMENT TO ADVENT OF MY KIDNAPPING TO UNITED STATES: SENDS SWORN AFFIDAVIT TO WASHINGTON D.C. 81ST U.S. ATTORNEY GEN. MICHAEL MUKASEY CC'D FBI/U.S. MARSHALS:
Back to Main Frame re Affidavit Confession P.I. FBI agent Steven Davis Click here
Break out of frame
COROLLARY COURT DOCUMENTS CLICK HERE)
THREATENING EMAIL FROM FBI AGENT STEVEN C. DAVIS AS COPIED
TO ATTENTION:
SENATOR JOHN MCCAIN* -PLEASE SEE BELOW:
Back to Main Frame E-Threat From FBI Copied Attention John McCain
&nbsp
Break Out of Frame
Back to Original Frame Click Here
&nbsp
Break Out of Frame