V/S
See
Winnipeg Police documents signed by Winnipeg Police Chief keith McCaskill!
See Winnipeg Police Chief McCaskill's personal signature on documentation regarding our ordeal on page 2/2 below dated Jan 09 2008 well before the date of above recording!!!
Winnipeg Police Chief Keith McCaskill is now caught up in lies regarding our ordeal- collusion with U.S. agencies re our kidnapping is overt.
Yet McCaskill (in audio above) told city councilor Smith he had no part of /was not aware of our ordeal?! McCaskill's lies and collusion with U.S. agencies is self evident.
McCaskill was very much a part of the collusion and acted as proxy for the FBI in McCaskill's capacity as "president of Northwest Chapter of associates FBI" as per his BIO:
http://winnipeg.ca/police/AboutTheService/chiefmessage.stm
McCaskill's bio states"
Keith is a graduate of the Federal Bureau of Investigation (FBI) National Academy, and of the Canadian Police College's Senior Police Administration Course and Executive Development Course. He was elected President of the FBI National Academy Associates North West Chapter representing law enforcement officers from South Dakota, North Dakota, Minnesota, and Manitoba, and has been active on numerous boards and committees.
Keith will assume the role of Chief of Police on Monday, December 10, 2007."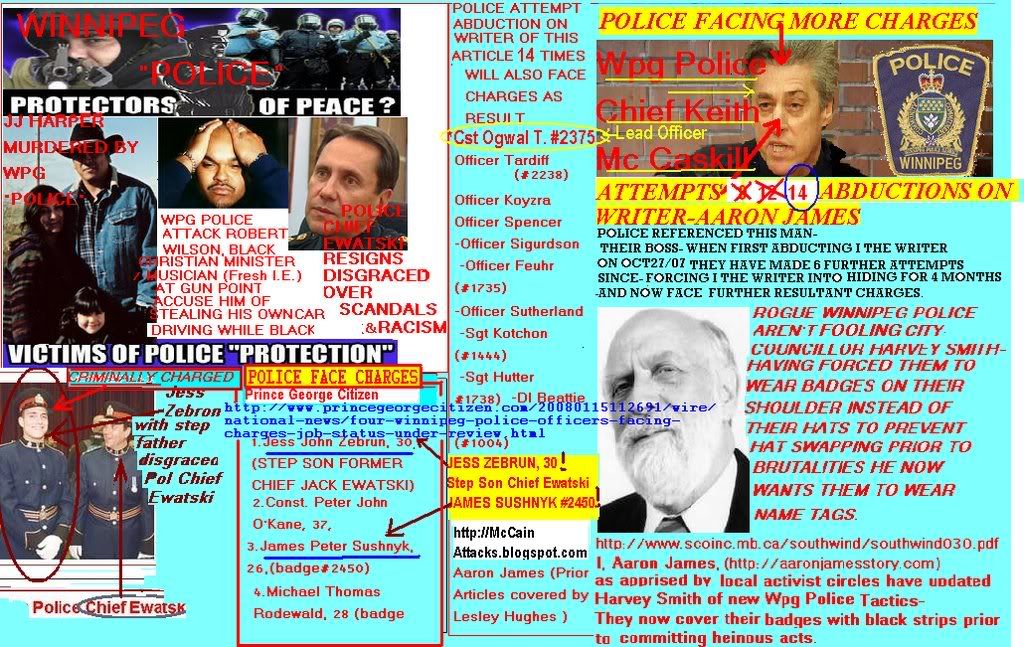 City Councilor Harvey Smith's Letter of Address to Our Family re Winnipeg Police Malfeasance and Abduction Ploys



Winnipeg Police have made multiple attempts upon the abduction of member of our family -
our lives have been traumatized & we have suffered the full brunt
of lawless police state tyranny as now exacerbated further by a Police
Review board dominated by past members of WPS ;
Winnipeg Police 'out of control': Articles:

"a police force so out of control that a prominent lawyer, a senior
Crown attorney, and a respected journalist all had reason to suspect
they were being watched by the police."
http://bit.ly/eJJwcC
Article reference #2:
"It is clear—and has been for some time—that the Winnipeg Police Force
are out of control. … shooting of aboriginal youth Matthew Dumas … 1991
shooting of aboriginal leader JJ Harper…dropping drunk driving charges
against an off-duty officer who slammed into a car killing a woman last
February.'
http://canadiandimension.com/blog/1139
Corruption in New Winnipeg Police Commission Review Board Meant to Provide Sanctuary to Winnipeg Police malfeasance: Articles Below:










Not only is the new police commission review board corrupt in capacity the
numerous members on the board having past history with RCMP and Winnipeg Police
(Joe Gallagher 29 years with the WPS, Sam Anderson former RCMP , Harley Grouette
RCMP 22 years...) but a layer of corruption still deeper and more sinister also
presents: Note that the police commission will not be investigative but only
policy-making ; It's function will be solely to establish the IIU ("Independent"
investigative unit) which will perform investigative functions into cases of
police misconduct involving deaths or serious injuries. Replacing the WPS
Professional Standards unit in it's function, the IIU will be comprised of
Active* and former WPS officers in its entirety* Summarily- nothing has changed!
This is the epitome of corrupted self-governance and circular tyranny that has
closed the doors to justice and provided sanctuary for scandalous police
malfeasance cover ups and brutalities throughout our history.

Of course this kind of circular tyranny, which is, in turn, exclusive to justice
and accountability, is well intentioned on the part of minister of "Justice" Mr.
Swan and Manitoba "Justice" as a whole. I would know-
Manitoba Justice is complicit along with local Winnipeg Police, in attempts
upon the unlawful abduction of member of my family and in same said capacity,
collusion with FBI, and other U.S. agencies. details:

http://james-press.blogspot.com


http://winnipegpoliceexposed.blogspot.com